Frequently Asked Questions
Absolutely you can! Free pickup is an option for all books and prints, just select it at checkout. Pickup is from my home/studio in Carrington and is available on most days by arrangement.
The following are unframed print sizes (these prints also have an additional white border of approx 10-30mm to allow for framing).
Unframed Print Sizes:
LANDSCAPE / PORTRAIT SIZES:
Mini: 200x300mm (framed only)
Small: 450x300mm
Medium: 600x400mm
Large: 900x600mm
Extra Large: 1200x800mm
SQUARE SIZES:
Mini: 200x200mm (framed only)
Small: 450x450mm
Large: 600x600mm
Extra Large: 900x900mm
These sizes become larger once frames are added. This is unlikely to effect most customers but if you are interested please see below:
Framed prints, no mat: Add approx 40-60mm both horizontally & vertically.
Framed prints with a mat: Add approx 120-200mm both horizontally & vertically
Arts District Print, shown framed in white & raw timber. Both size M without a mat.
All prints are framed locally in Newcastle to a very high standard.
They come wrapped in protective film and hardware ready to hang immediately.
Framing is certainly the best way to protect and present a quality image for many years to come but I do understand that framing is a substantial cost, making up about 50% of the total cost of a framed print. For those looking to get a great framed print at a cheaper price check out the range of
XS prints
. These are made to fit off the shelf frames from IKEA, Spotlight and others (approx $20-$30each). If you have any questions about these feel free to get in touch.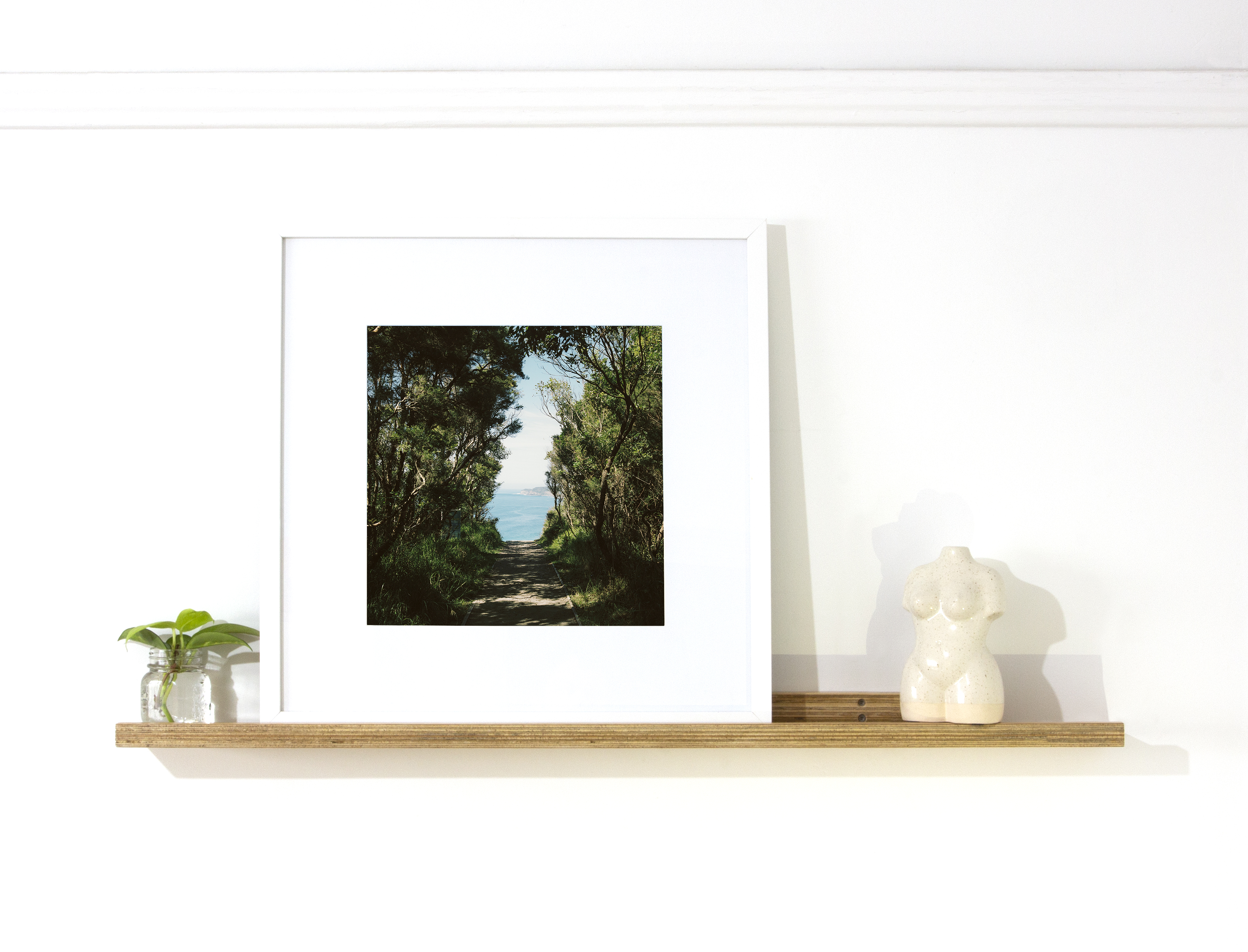 Example of an XS image framed with an off the shelf frame purchased from Spotlight. Total cost $80-90.
If you are interested in custom framing please see below.
Yes! Just get in touch. I can organise other framing options as requested and I am happy to do this. We can have a quick chat about where and how you would like to display a print and go from there if you wish, I've had plenty of experience organising framed prints for customers over a number of years so I am happy to help. Just shoot me a message or email.
Unframed prints are carefully rolled inside a postage tube with protective wrapping.
Framed prints are packed and sent by courier wherever possible, as I find them to generally be faster and more reliable than Australia Post. Framed prints will generally require a signature for collection.
The extra small print size is a recent addition to the store. This size is definitely a favourite of mine and they look bloody cute on a mantle piece, a dresser or beside that cute liitle indoor plant you've been doting over. Unfortunatly these are only available as pre-framed items, of course like all the products on this site these images are still printed with a great deal of care on quality archival papers and framed locally here in Newcastle.
You will also notice these prints are not available with a mat. Trust us you wouldn't want one these, as they are just perfect with the frame right up to the image.
Please see my list of stockists
here.
At this stage, I only sell books and small unframed prints in retail stores. Please feel free to get in touch for the most up to date information about retailers.
I do sell at a limited number of Newcastle events throughout the year as well as a number of the national Art Book fairs such as the Melbourne Art Book Fair or Volume Art Book Fair in Sydney. Follow my social media or mailing list for the most up to date information.
Yes I do. If you aren't pretty keen on something in this shop maybe you just don't need it... that's just a thought.
My books are printed in Australia and where possible with recycled papers. Whenever I can I ship items in reused envelopes and packaging so don't be surprised if you get an item in an odd-looking envelope or tube with an old label blacked out. I do use plastic slips for some books to minimise the risk of damage in the post but try only to use these when and where they are needed.
Probably. But don't get any ideas alright!